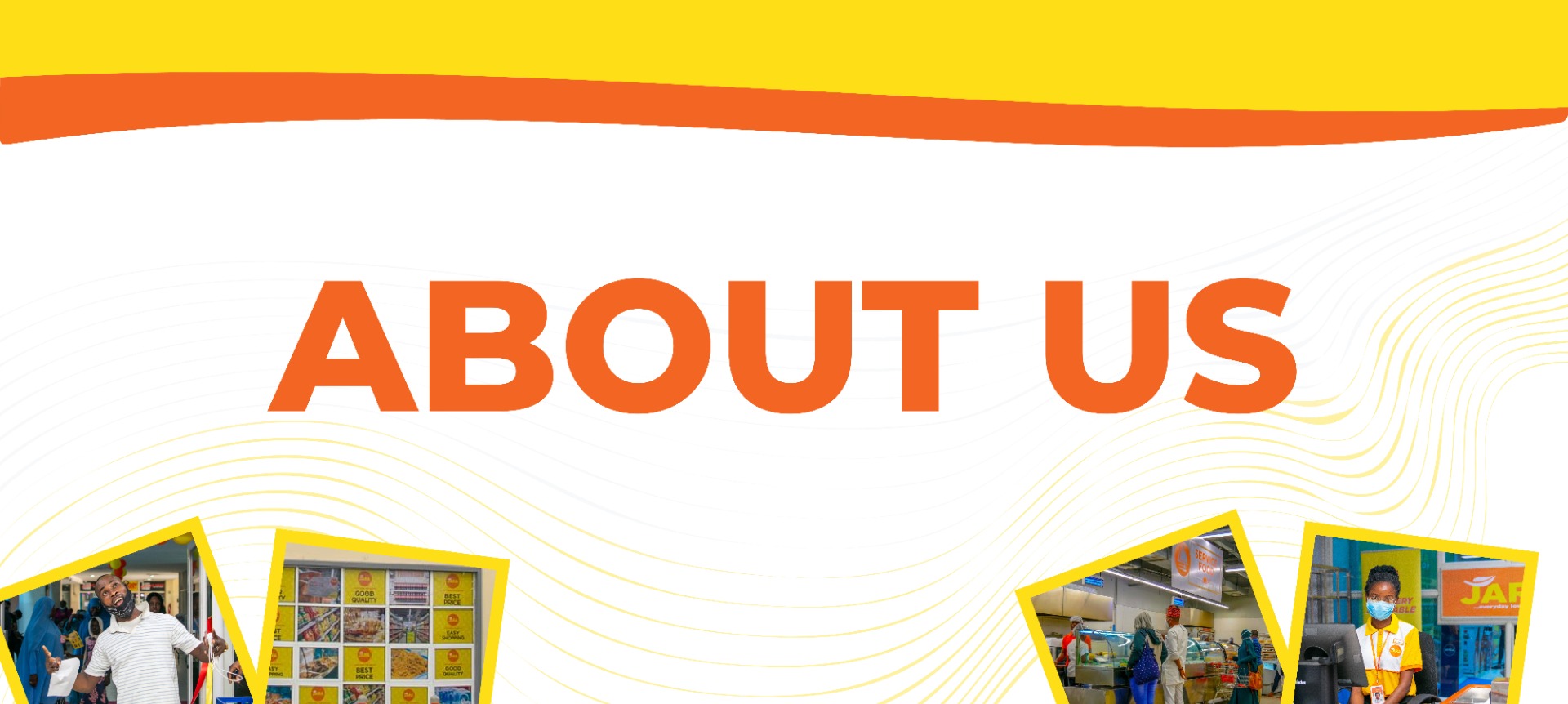 About Us
Easy Shopping Without Frills
JARA is Nigeria's first discount supermarket and retail chain that is being created by Nigerians, specifically for the Nigerian retail market.
JARA wants to offer you a basic, but modern, clean, convenient and friendly store with quality goods for a low price in order to enable you to save money on your basic food needs. With our balanced assortment and with our daily fresh products, we offer you the best value on all core products that satisfy your everyday needs. Our stores are not too big and not luxurious, and we don't spend our money on expensive and fancy displays, so our prices can stay low.
To succeed in our mission "high quality – low pricing", we use an ambitious and purposive approach. Monitoring costs intensively and continuously working for an efficient organization are two of our main goals behind the screens.
We monitor the quality of our products, we train our employees to understand our mission, we deal with our suppliers fairly and strictly, and we are aware we need to listen to our customers to keep the right price.
We aim to engage honestly and fairly with all our business partners and governmental authorities in the interest of our customers and other stakeholders.
JARA is operated by EDLP Nigeria Limited
Low pricing
Driven by our mission, we promise our Customers quality products at the best prices in order to enable them to save money on their basic food needs. We aim to operate a low-cost business model to ensure low prices for you. We try to buy the products in large volumes from the best suppliers, so we can keep the price low and fair. Next to that, we intend to pass through the price benefits to you when better price conditions have been negotiated with the supplier.
Quality
We always aim to provide our customers with the best value; high-quality products at the lowest prices. We monitor the quality of our products, as quality assurance is key to our business and product safety and quality standards. Where we need to either remove a product from sale or recall a product, the employees responsible must take the greatest care to ensure our procedures are followed correctly to protect our Customers.
Hygiene & Cleanliness
Hygiene and cleanliness are a part of our operational excellence and HACCP rules. Hygiene and cleanliness give us a positive ambience. We also understand the Customer demands a clean and hygienic shopping environment and we are aware that this is a part of our Customer orientation, as we want to sell our quality goods not only for low prices but also in a clean store
Convenience
Offering good quality for a low price and enabling our Customers to save money are our main pillars. Next to this, we want to offer our clients a basic, but modern and convenient store. We try to reach this by a clear routing & grouping of the assortment, by wide aisles, by a service-oriented friendly approach, by a balanced assortment, by offering short decision moments, by a clear presentation of the goods, and by a well-organized store.
Assortment
Our JARA easy-choice assortment features basic, daily and weekly needs for our customers, and is based on high-rotating products to keep the prices low. We offer a balanced and convenient assortment (safe, fresh and tasty) for the lowest price in the market. Quality for a low price is the key factor in our assortment. JARA offers sharp-priced promos and extra discounts when buying bulk. See JARA card.
Friendliness
We aspire to be the friendliest supermarket in Nigeria. A supermarket where our Customers leave with a smile and tell other people about how satisfied they are any time they visit our stores. In that frame, we aim to develop a cultural approach to sales and customer relations in which staff focuses on serving customers to ensure that customers have an efficient shopping experience.
Well trained staff
Our employees are key to our success. Every JARA employee is trained and is aware of our mission, vision & values. The commitment of our staff makes it possible for us to deliver the possible value to our Customers; in terms of both: quality and price. Together, we establish a culture of learning and personal development. We strive to maintain long lasting work relationships and support our employees in developing their career.